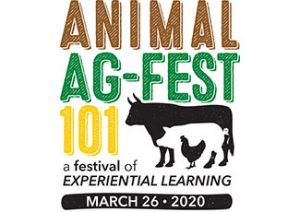 Animal Science 101 (formerly AN SC 200) presents a major extravaganza that is not-to-be missed!
Animal – Ag – Fest 101 – A Festival of Experiential Learning
Where? Shell Theatre in the Dow Centennial Centre, 8700 84 St., Fort Saskatchewan, Alberta.
When?  March 26, 2020, at 6:30 PM
Cost?  Tickets are $15/person
What?  Students have been challenged with various group projects from the classic There's a Heifer in Your Tank (science answers to questions you didn't know you had about animal agriculture), Ag awareness / Ag education projects, and The Game of Farm Life, which challenges students to build a plan for a new animal agriculture enterprise, including an operating budget for their first year.
All these projects raise awareness about agriculture and help to prepare the students as future workers and leaders in the animal agriculture industry. Students from Lakeland College and Olds College have been invited to to participate in this event as well as the 123 students in Animal Science 101.
Lakeland College students will present student-managed farm learning and the students from Olds College will describe experiential learning on the practice of agriculture.
There will also be a silent and live auction with amazing items to bid on and funds raised will support the ALES mini internship program that runs during the fall and winter reading weeks.
How to Buy a Ticket? Visit  www.shelltheatre.ca or ticketpro.ca to buy a ticket online. You can also call the Shell Theatre at 780-992-6400 or 1-888-655-9090.
Tickets are going fast – there are less than 50 remaining! Hope to see you there!